Bicycle cables connect the brake levers to the brakes and the shifters to the derailleurs. The cable system consists of a cable and cable housing. The cable moves within the housing when braking or shifting. The housing is routed from the brake levers or shifters, fitted into slots on the bicycle frame, and inserted into the adjusters on the brakes or the derailleurs.

Good quality brake and shift cables are made from stainless steel. The cable is drawn through a die to give it a smooth outer surface. Brake cable housing consists of a wound steel coil covered with plastic and lined with plastic or Teflon. Shift cables are thinner than brake cables. The shift housing contains thin strands of steel wire running parallel to the cable. The strands of wire are sandwiched in plastic to prevent the housing from compressing during shifting.

Cables and housings should be checked, cleaned, and lubricated routinely, because rust and dirt will have a large effect on shifting and braking performance. If a cable becomes frayed, kinked, or the housing is damaged, it is best to replace it. New cables should be cut about one and a half inches past the binding bolts on either the brakes or the derailleurs to allow for future adjustment and maintenance.

Shop for new and used bicycle cables and cable accessories at eBay.
---
Copyright 2007-2022 Zeducorp.
All rights reserved.
For your convenience, certain links will open in new windows.
Bicycle Parts • us is a Chosen Sites information source.
Bicycle Cables at eBay
Related Images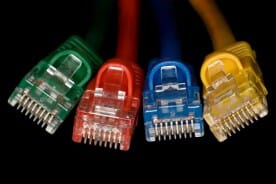 Colorful Ethernet Cables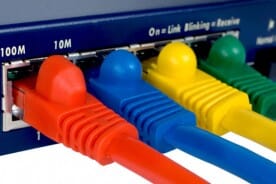 Cisco Router And Network Cables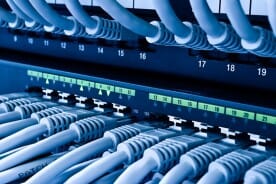 Network Hub And Ethernet Cables