BMX, or bicycle motocross, bikes are designed for young riders between the ages of 7 and 14 years old. With their small, sturdy frames, 20-inch wheels, and hand brakes, BMX bikes are maneuverable and practical for kids. Because they have no gear shifting mechanisms or derailleurs, they are also fairly inexpensive to maintain.

Of course, BMX bike technology has continued to evolve since kids began using their basic 20-inch bicycles to imitate off-road motorcycle, or motocross, riders during the late 1960s. In recent years, mountain bike technology has even been adapted for BMX bikes, spawning a new class of high-end BMX frames and components.
If your child is seriously interested in BMX stunt riding, he or she will need a durable BMX bike, as well as safety equipment such as body pads, full headgear, and riding gloves. A few unique parts and accessories are also available for BMX bikes.
BMX pegs — knurled cylinders that mount over the front and rear axles — provide a spot for riders to stand on when performing stunts. These pegs and their adjoining axle nuts should be checked regularly to be sure they are firmly secured.
Gyros — devices that mount on the head tube — enable riders to spin the handlebars 360 degrees without tangling the brake cables. While gyro-equipped bikes are useful for freestyle riding, they can be expensive to maintain.
You can often find good values on new and used BMX bike products at eBay.
---
Copyright 2007-2022 Zeducorp.
All rights reserved.
For your convenience, certain links will open in new windows.

BMX Bike Parts at eBay
Related Images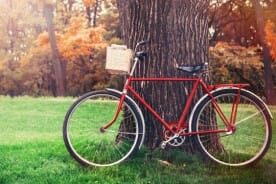 Vintage Bicycle Leaning Against A Tree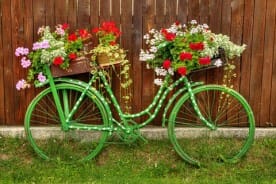 Green Bicycle And Brown Fence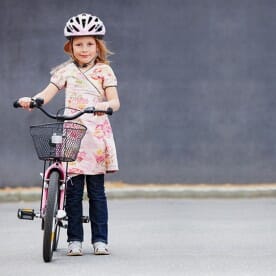 Bicycle And Child